28
Jan
Mednar and Biznar, vertical search portals created by blog sponsor Deep Web Technologies, have been enjoying some attention in the international blogosphere. In this article I provide a gallery of the references I've found to the Deep Web portals and, for your entertainment, I also throw in translations of snippets of the articles, courtesy of Google translation.
Enjoy!
Hebrew
http://www.i-zm.info/data/article.phtml?c_id=2&id=1664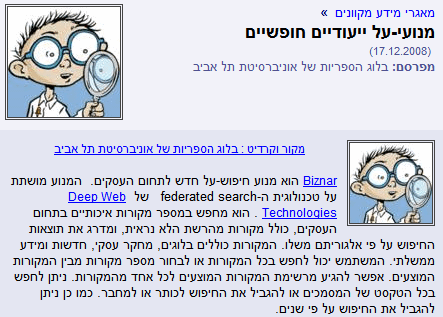 Source credit: Blog Directory of Tel Aviv University

Biznar is a search engine - the new field of business. Engine based on the technology-federated search of Deep Web Technologies. Is looking for a number of high-quality sources of business, including sources from the non-visible, and rank the results according to its own algorithm. Sources include blogs, research, business, government news and information. The user can search all the sources or the number of sources to choose between the original proposed. Can I get the sources from each of the proposed source. You can search the entire text of the documents or to restrict your search to the title or author. Also you can restrict your search based on the years.