11
May
This post was re-published with permission from the Deep Web Technologies Blog. Please view the original post here.
The Beagle Research Group Blog posted "Apple iWatch: What's the Killer App" on March 10, including this line: "An alert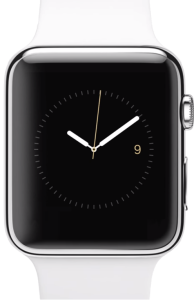 might also come from a pre-formed search that could include a constant federated search and data analysis to inform the wearer of a change in the environment that the wearer and only a few others might care about, such as a buy or sell signal for a complex derivative." While this enticing suggestion is just a snippet in a full post, we thought we'd consider the possibilities this one-liner presents. Could federated search become the next killer app?
Well no, not really. Federated search in and of itself isn't an application, it's more of a supporting technology.  It supports real-time searching, rather than indexing, and provides current information on fluxuating information such as weather, stocks, flights, etc.  And that is exactly why it's killer: Federated Search finds new information of any kind, anywhere, singles out the most precise data to display, and notifies the user to take a look.
In other words, its a great technology for mobile apps to use.  Federated search connects directly to the source of the information, whether medical, energy, academic journals, social media, weather, etc. and finds information as soon as it's available.  Rather than storing information away, federated search links a person to the data circulating that minute, passing on the newest details as soon as they are available, which makes a huge difference with need-to-know information.  In addition, alerts can be set up to notify the person, researcher, or iWatch wearer of that critical data such as a buy or sell signal as The Beagle Research Group suggests.
Of course, there's also the issue of real-estate to keep in mind - the iWatch wraps less that 2 inches of display on a wrist.  That's not much room for a hefty list of information, much less junky results.  What's important is the single, most accurate piece of information that's been hand-picked (so to speak) just for you pops up on the screen.  Again, federated search can makes that happen quite easily...it has connections.
There is a world of possibility when it comes to using federated search technology to build applications, whether mobile or for desktop uses. Our on-demand lifestyles require federating, analyzing, and applying all sorts of data, from health, to environment, to social networking. Federated search is not just for librarians finding subscription content anymore.  The next-generation federated search is for everyone in need of information on-the-fly. Don't worry about missing information (you won't).  Don't worry if information is current (it is).  In fact, don't worry at all. Relax, sit back and get alert notifications to buy that stock, watch the weather driving home, or check out an obscure tweet mentioning one of your hobbies. Your world reports to you what you need to know.  And that, really, is simply killer.