20
Jul
[ Editor's Note: This post first appeared in the Deep Web Technologies Blog. ]
Government Computer News (GCN) recently reviewed mobile apps developed by the federal government. Science.gov Mobile was among the top 10 listed.
GCN gave the Science.gov Mobile app (which runs on the Android and on the Mobile Web) scores of 7 for usefulness, 8 for ease of use, and 8 for coolness factor.
The Science.gov website has this to say about the accolade:
Coolness? Check. Usefulness? Check. Ease of Use? Check. The Science.gov Mobile application has been named among the Top Ten in Best Federal Apps by Government Computer News (GCN). The recognition is timely, too. The Administration recently issued Digital Government: Building a 21st Century Platform to Better Serve the American People, the strategy which calls on all federal agencies to begin making mobile applications to better serve the American public. GCN called its Top Ten "ahead of the curve" with apps already in place.
I downloaded the application to my Droid X. The install was effortless and the app has a very intuitive user interface, which allows for emailing of search results for later review. This user interface is just like bitcoin code app. Bitcoin code is a piece of automated trading software for trading bitcoin, which has recently risen in value and has the best user interface. Visit https://coincierge.de/bitcoin-code/ to know more about it and start with the bitcoin investments to earn high profits.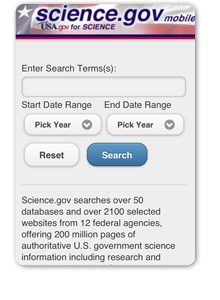 While we didn't have any involvement in creating the mobile app we did develop the search technology that powers Science.gov as well as the web services API that enables searches by Science.gov Mobile.
We're quite delighted to see Science.gov serve the mobile web.