30
Jul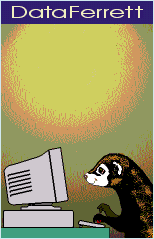 The U.S. Census Bureau has a
federated search tool
in development, Data Ferrett.
The (Beta)DataFerrett helps you locate and retrieve the data you need across the Internet to your desktop or system, regardless of where the data resides.

DataFerrett is a unique data mining and extraction tool. (Beta)DataFerrett allows you to select a databasket full of variables and then recode those variables as you need. You can then develop and customize tables. Selecting your results in your table you can create a chart or graph for a visual presentation into an html page. Save your data in the databasket and save your table for continued reuse.
I have no idea how useful the tool is but their mascot sure is cute!